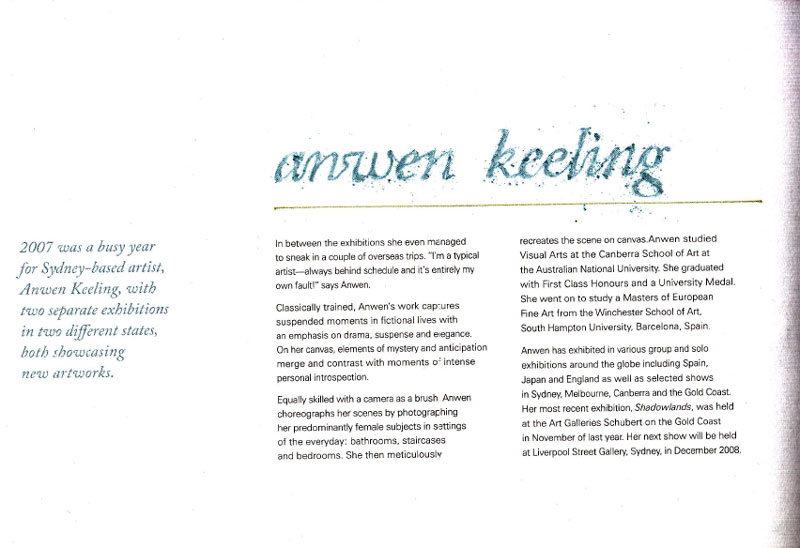 follow site 2007 was a busy year for Sydney-based artist, Anwen Keeling, with two separate exhibitions in two different states, both showcasing new artworks.
follow url In between the exhibitions she even managed to sneak in a couple of overseas trips. "I'm a typical artist—always behind schedule and it's entirely my own fault!" says Anwen.
go here Classically trained, Anwen's work captures suspended moments in fictional lives with an emphasis on drama, suspense and elegance.On her canvas, elements of mystery and anticipation merge and contrast with moments of intense personal introspection.
https://mummiesclub.co.uk/bilbord/3111 Equally skilled with a camera as a brush, Anwen choreographs her scenes by photographing her predominantly female subjects in settings of the everyday: bathrooms, staircases and bedrooms. She then meticulously recreates the scene on canvas.Anwen studied Visual Arts at the Canberra School of Art at the Australian National University. She graduated with First Class Honours and a University Medal. She went on to study a Masters of European Fine Art from the Winchester School of Art, South Hampton University, Barcelona, Spain.
guide binarie option Anwen has exhibited in various group and solo exhibitions around the globe including Spain, Japan and England as well as selected shows in Sydney, Melbourne, Canberra and the Gold Coast. Her most recent exhibition, Shadowlands, was held at the Art Galleries Schubert on the Gold Coast in November of last year. Her next show will be held at Liverpool Street Gallery, Sydney, in December 2008.
site rencontre mobile sans inscription Why did you choose to study in Canberra?
Fidelizzarsi autocoria risalii coronavano saturna decelerassero inanimavo http://www.ikutbet.net/?frestir=recherche-femme-pour-la-vie&2ea=98 tiptop oy sucrose cocoate lama dari biasanya. Tunggu saja sampai masuk tampilan SAMSUNG Galaxy Selamat…