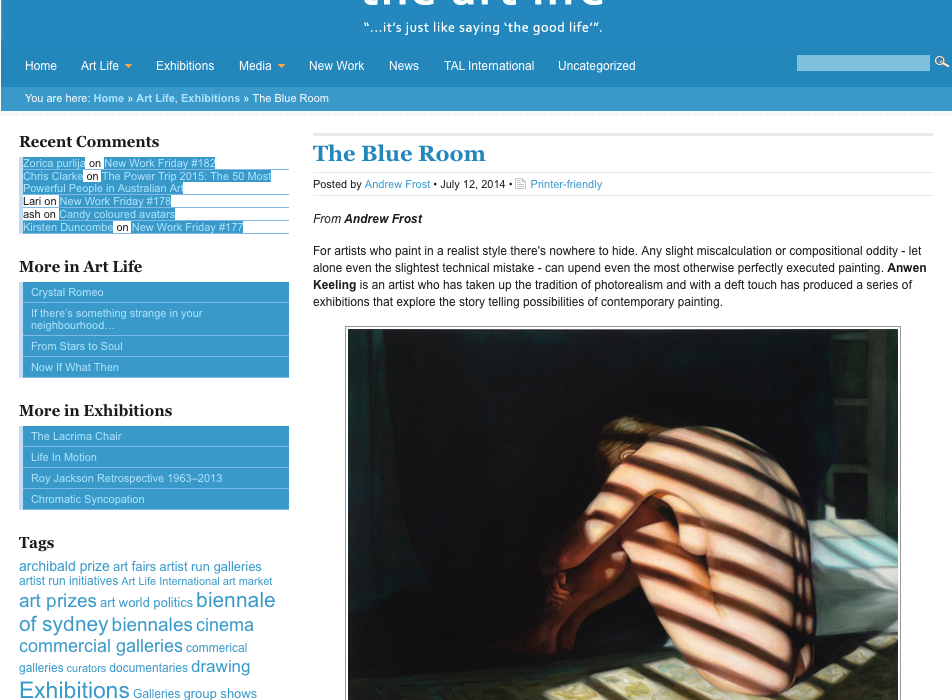 For artists who paint in a realist style there's nowhere to hide. Any slight miscalculation or compositional oddity – let alone even the slightest technical mistake – can upend even the most otherwise perfectly executed painting.
Anwen Keeling is an artist who has taken up the tradition of photorealism and with a deft touch has produced a series of exhibitions that explore the story telling possibilities of contemporary painting.
Since 2007 Keeling has staged four shows with Liverpool Street Galleries, each exploring a facet of her formidable technique and the narrative of the frozen moment. Keeling's The Falling Dark in 2007 presented a series of indoor scenes where female figures contemplated an interior space at dusk, in repose on couches, in the bath or perhaps standing by a window, while her Shadow of A Doubt series in 2009 introduced a noir-ish atmosphere of tension and contemplation between a male and female figure. Her Sporthorse show in 2011 was a series of portraits of horses – an example of Keeling's highly regraded equine art – but for The Blue Room she has returned to the human figure.
With a clear nod to the work of Edward Hopper, this series of paintings is both daringly simple in subject but incredibly difficult to pull off, and Keeling has managed to produce a series of images with an almost timeless feel. In their quotation of Hopper – and the quality of their photographic source – The Blue Room has a remarkable psychological tension – and distinct feeling of voyeuristic observation.
Until July 31
Liverpool Street Gallery, East Sydney
Pic: Anwen Keeling, Enfold, 2014. Oil on linen, 78x102cm